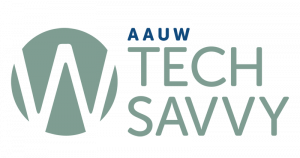 Tech Savvy, a program of AAUW,  introduces girls in 6th through 9th grades to many types of science, technology, engineering, and mathematics (STEM) careers and teaches "savvy skills" such as critical thinking, sharing opinions, financial literacy, and negotiation.
Parents and guardians are encouraged to attend the one-day program for adults who receive information on how to help girls get on a path to a college education and a career in STEM.
Tech Savvy will be March 30, 2019, from 8:00 am to 4:00 pm at the College of St. Mary, 7000 Mercy Rd, Omaha, NE.     
The information below is from our Tech Savvy event in April 2018:
Tech Savvy Workshops for Girls (girls choose to attend three of these):
Aquaponics:  The Magic of Aquaponics (Whispering Roots)
Breaking Bones
Build a Chair — Engineering Everyday Materials into Real-World Solutions
Clothes that Light Up — E-Textiles
College Savvy
DNA:  The Blueprint for Life
Forensic Science Black Box
Robotics Style — Conveying Messages
Roller Coaster Engineering
Twists, Turns, and Surprises with Math

Savvy Skills Workshops for Girls (girls choose to attend two of these):
Cybersecurity
Money Talks
My Awesome Brain:  The Many Jobs of the Brain
We Each Get Only ONE Body
Descriptions of both Tech Savvy and Skills Savvy Workshops for Girls (pdf) »
Presentations for Parents/Guardians (all adults attend the same presentations):
AAUW Research and Parent's Guide to the "T" in STEM
All Gas and No Breaks?  Discussing the Myths and Reality of Adolescent Brains
College Savvy
Financial Challenges that Matter Most
Five Tips for Parents:  How to Support Your Daughter's Love for STEM
Social Media Safety 101
Keynote Speaker:  Amie Konwinski, "My Smart Girl Story", Ms. Konwinski is founder and CEO of Smart Girl Style (girls also attend this session)

You Tube video from Tech Savvy 2018 (2 minutes).
Hosted by the AAUW-Omaha Branch with assistance from AAUW-Nebraska,
Marilyn Bombac, Chair