Events are at the College of Saint Mary, Mercy Hall – Warde Conference Center, 1901 S 72 Street unless noted otherwise    
Current Branch Programs and Activities for 2019-20:
Tuesday, September 10, 2019
6:00 pm – Social Event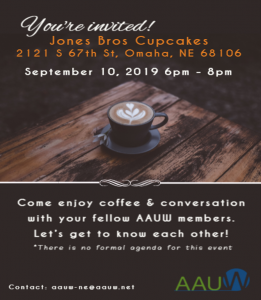 Click here to RSVP.
This event provides AAUW members a unique opportunity to come together and get to know each other.
*There is no formal agenda for this event.
Contact: aauw-ne@aauw.net
Saturday, September 21, 2019 (REGISTRATION DEADLINE: September 13th)
10:30 am – General Meeting / Brunch Buffet
Program: Living a Life of Influence Across Generations
Speaker: Rachel Tiller, Prime Team, Omaha, NE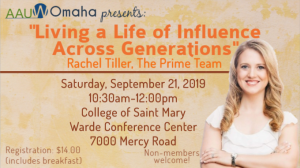 Click here to register.
The November 9th General Meeting of the Omaha Branch of AAUW will be a field trip to the new Nebraska History Museum in Lincoln to view the special exhibit "Votes For Women: Nebraska's Suffrage Story". Click here to read more about this exhibit.
We have complimentary school bus transportation. We will leave from our regular parking spots at the College of Saint Mary at 12:00pm.
——————————————————————————————————————————————
Past Branch Programs and Activities for 2018-19:
Saturday, September 8, 2018
10:30 am – General Meeting / Brunch Buffet
Program:  Our Opioid Crisis
Speakers:  Kimberly Haynes-Henson, MD, UNMC Associate Professor, Chronic Pain Anesthesiologist Program Director, Pain Management Fellowship; and Vice Chairman of the Board, Women's Mentoring Program, Coalition Rx
Thursday, October 25, 2018
Clothing Drive
Omaha Public Schools — Sherman Elementary School
Saturday, October 27, 2018 — Attend AAUW-Nebraska Fall Conference
The regular October meeting will not be held
9:30 am – 2:00 pm
Location:  College of Saint Mary
Program:  Empowering Women Across Nebraska:  Economic Security, featuring a panel of local financial experts 
Saturday, November 10, 2018
10:30 am – General Meeting / Brunch Buffet
Program:  Panel Presentation on "Single Parent Success Program at College of St. Mary 
Panel:  1) Dr. Tara Knudson Carl, Vice President of Student Development, 2) Barb Treadway, Director of Single Parent Success, 3), TBA – Madonna Hall Director, 4) & 5) Two students who are single mothers – TBA
Sunday, December 4, 2018
2: 30 pm – Special Event – Red Candle Tea (Special Holiday Treats)
Program:  Recognition Reception of New Members and Holiday Entertainment: "Northern Lights", an A capella choir from Millard North High School; Megan Tantillo, Choral Director; Zachary Krichau, Student Manager
Location:  College of Saint Mary, Hillmer Art Gallery
Saturday, February 9, 2019
10:30 am – General Meeting / Brunch Buffet
Program:  Unconscious Bias
Speakers:  Linda Love, EdD, UNMC Director, Faculty Development
February or March 2019, Exact date TBA — Attend AAUW-Nebraska Legislative Day

Friday, March 1, 2019
Read Across America
Omaha Public Schools — Sherman Elementary School
Saturday, March 9, 2019
10:30 am – General Meeting / Brunch Buffet
Program:  Tech Savvy in Review in Omaha
Speaker:  Marilyn Bombac, PhD, AAUW-Omaha Branch President Tech Savvy Chair
Saturday, March 30, 2019
8:00 am – 4:00 pm
Location:  College of Saint Mary, Omaha
Tech Savvy – a program for 6th – 9th grades girls, introducing them to careers in science, technology, engineering, and mathematics (STEM) and teaches "savvy skills"
For more information, see our Tech Savvy webpage
Saturday, April 13, 2019 – Attend AAUW-Nebraska Spring Conference
The regular April meeting will not be held
9:30 am – 2:00 pm
Location: Southeast Community College, 8800 O St, Lincoln
Program:  Media Literacy, featuring a panel from UNL and UNO Communications Colleges 
Saturday, May 11, 2019
10:30 am – General Meeting / Brunch Buffet
Program:  Installation of New Branch Officers, Member Recognition, Being a Military and Commercial Pilot
Speaker:  Colleen Warrick, Military and Commercial Pilot